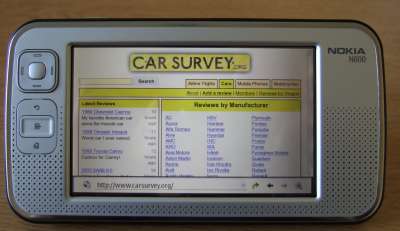 Click the image above for a more detailed view, and visit Carsurvey.org if you want to see how the site pictured (one of my sites) renders in a desktop browser.
With a home bathed in wireless connectivity, a Mac mini in my living room, and a Dell Axim X50v in my pocket, you'd think there would be no room in my life for another device for accessing the Internet. That was probably true, until a Nokia N800 came into my life.
I've always like the idea of an instant on web tablet, but an affordable and usable device has never quite made it to market. After a few weeks of living with an N800, I'm pretty impressed, but there's still some work to be done before it's a device suitable for non-geeks.
On the face of it, the N800 is just a largish PDA, with an ARM processor, WiFi, Bluetooth, and running an Opera browser. Superficially very similar to my Dell Axim X50v then, but when you use the N800, it could hardly be more different.
As is my usual style, I'd going to describe my thoughts about the N800 through several lists of bullet points.
Negatives:
The Price – At £279 in the UK, it's too expensive. Thankfully I managed to pick mine up off eBay for £232 inc delivery, which was about the right price as far as I'm concerned
The Software Quality – It's patchy. The N800 currently feels like a beta product. A very promising beta, but a beta nonetheless
The Size – It's pocketable, but it's right at the limit of what you can get away with. For comparison, it's very similar in size to a Nintendo DS Lite. In fact I'm actually storing mine in a DS Lite case
The Screen – It's just a bit too small to read comfortably for long periods
Positives:
Opera – The browser on the N800 bears no relationship to your average PDA browser. It feels like using desktop Opera on a slow notebook with a small screen. That's light years ahead of any PDA browser I've ever used, and that includes Opera on my VGA Dell Axim
Flash and AJAX support – even sites like YouTube and full fat Gmail work decently
The Browser Controls – Hardware buttons for fullscreen, zoom in and out, and tab switching. Scroll around web pages just by dragging the page with your stylus. Again, this is so much better than any other PDA browser I have ever used before
The Screen – 800×480 is just enough resolution to render mainstream websites properly
Great WiFi reception. At least as good as my Inspiron notebook
Easy configuration of Bluetooth phones. It was much easier to connect the N800 to my Samsung D600 phone, than connecting to the D600 with my Dell Axim. It even knows about the settings for different mobile carriers around the world
Dual SD card support. Much better than any of the new fangled micro cards. And custom kernels support SDHC for cards over 4Gb
Things it's not great at (yet):
It's not a good organiser – my Axim is much better as an organiser
Games or multimedia – again, my Axim has better games and multimedia apps available
Surfing the net for more than about 15 minutes – the screen is just too small
Writing long emails – not much fun on an onscreen keyboard
Browsing late at night – the screen is just too small when your eyes are tired
Things it's good for:
Quick web searches when you can't be bothered to turn on a computer (Wikipedia and IMDB being favourites of mine)
Internet on the move. It's significantly better than any pocketable device that I've ever used. Hopefully I'll be pairing mine up with a Nokia N95 soon, so I should have access to HSDPA connectivity, which will keep the N800 connected at almost broadband speeds
Checking webmail and news
In conclusion, although the N800 is far from perfect, it's sort of like a beta Blackberry for the web. If that sounds like your sort of thing, it's definitely worth a look.